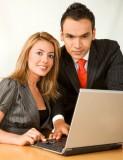 Sector-specific terminology and workplace communication/culture skills for internationally trained office administrators and individuals interested in working in the Office Administration field.
A Certificate of Completion is awarded upon completion.
The next course will begin on May 8 to May 26,2017
E-Facilitators: Jamila Wilson & Heidi Fuentes- COSTI Employment Services
To access this course you will need an enrollment key.
For more information contact costionlineservices@costi.org. To register directly please complete the online registration found on the main page. If you have previously registered just send an e-mail to Heidi Fuentes COSTI Online Service Administrator at Fuentes@costi.org and request registration in the course.